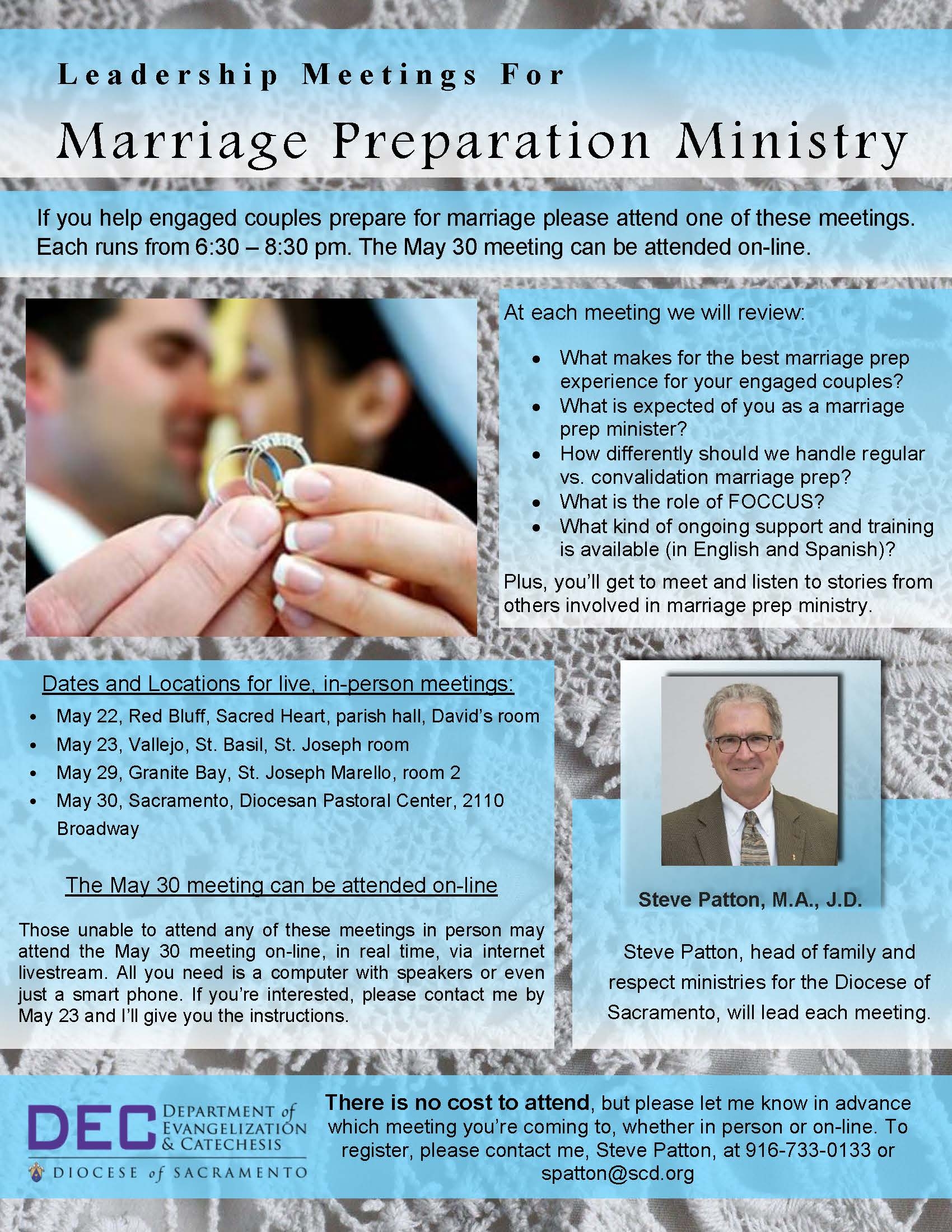 The Diocese of Sacramento offers comprehensive, advanced training for anyone involved or wishing to become involved in marriage preparation ministry. All are welcome to attend any of these trainings; this is the "ala carte" option. There is also a more extensive option for obtaining a catechist Specialization Certificate in Marriage Preparation Ministry. It is offered to those who complete all seven trainings listed below and who also meet other related requirements. Click here to review these requirements.
The seven trainings below are specific to marriage preparation ministry and are offered in alternating years in English and Spanish. The English series runs from November 2015 through June 2016. The Spanish series will be offered from November 2016 through June 2017.
Unless otherwise indicated, each of these seven trainings can be attended either live at the Diocesan Pastoral Center, 2110 Broadway in Sacramento, or via internet livestream. Since every class offered via internet livestream is also recorded, participants do not have to attend them in real time. In other words, anyone who misses a live session can attend at any time afterwards via the recorded session.
1. Marriage and the Mystery of God. Surveys the essential elements of the Sacrament of Matrimony. Taught in four sessions by Steve Patton on November 23 & 30, December 7 & 14, 2015 from 6:30 - 8:30 pm. $30.
2. How to Lovingly Present the Church's Challenging Teachings about Marriage. Focuses on how to teach engaged couples about issues such as contraception, pre-marital sex, and same sex unions. Taught in two interconnected sessions by Steve Patton and John Hamlon on February 20, 2016 and March 19, 2016 from 10 am to 2 pm. $30.
3. Teaching and Modeling a Happy and Wholesome Marriage.  Focuses on how to teach engaged couples the essential relationship skills of a marriage built on trust, mutual respect and open communication. Taught by Edixon Martinez on April 2, 2016 from 10 am to 2 pm. $15.
4. NFP Intro session. This is the standardized, minimum one-hour session taught by a certified NFP instructor that is required of all engaged couples. Coordinate attendance directly with any certified NFP instructor: Click here for list of certified instructors in the Diocese of Sacramento.
5. Diocesan Marriage Preparation Policies. Surveys required steps for engaged couples, wedding liturgy issues, canon law considerations, assessment of readiness, special circumstances, and pastoral care after the wedding. Taught by Fr. Mark Richards and Steve Patton on April 23, 2016 from 10 am to 2 pm. $15
6. Sponsor Couples: Tools and Principles of Evangelization.  Reviews the FOCCUS instrument and the sponsor couple role and relationship, including essential principles of evangelization. Taught by John and Janet Picone and Mary-Rose Verret on April 30, 2016 from 10 am to 2 pm. $15
7. Building an Effective Marriage Prep Program.  Surveys various parish marriage prep program models and reviews the "ecclesial team" concept (i.e., coordination of clergy and laity).  Taught by Steve Patton on May 21, 2016 in Sacramento or June 11, 2016 at St. Francis parish in Burney from 10 am to 2 pm. This session must be attended live. $15
All costs are the same whether a couple or individual attends.
A special discounted rate of $100 is available for those couples or individuals who wish to complete all seven trainings.
For more information about attending any of these trainings, either live, via internet livestream or via recorded sessions, please contact Steve Patton at spatton@scd.org, 916-733-0133.