The Lay Mission Project is the Advanced Lay Formation process for the Diocese of Sacramento.  A three-year formation process designed for the laity to understand and fully live their vocation. 
Are You ...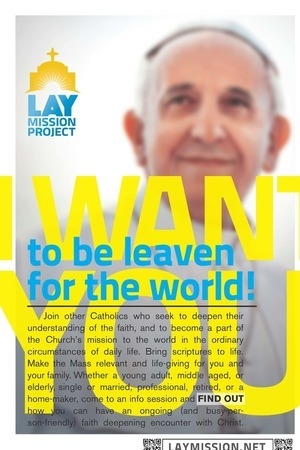 Seeking to deepen your faith?
Responding to your call as a disciple?
Seeking to bring Christ to the temporal order?
Wondering what it means to be a lay apostle?
If you answered yes to any of these questions, then the Lay Mission Project may be right for you.  Designed for all parishioners, regardless of ministry involvement, the Lay Mission Project invites all to explore their faith.
The Second Vatican Council taught that the evangelization of the temporal order is preeminently a work of the lay Catholics in collaboration with their pastors. 
The Diocese of Sacramento is currently accepting applications for Cohort 2 of the Lay Mission Project starting in Fall of 2019. 
To apply:  https://catholic.formstack.com/forms/lay_mission_project_cohort_2019__application
For questions please contact: Lauralyn Solano at LSolano@scd.org or (916) 733-0153