The Lay Mission Project is the Advanced Lay Formation process for the Diocese of Sacramento.  A three-year formation process for parishioners designed to help them understand the vocation of the laity and deepen their spiritual life.

Are You ...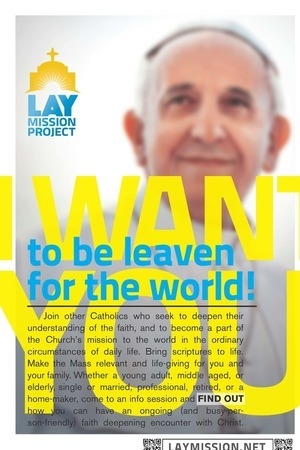 Seeking to deepen your faith?
Looking to live your call as a disciple?
Involved in the life of your parish?
A Lay Minister, Catechist or Teacher?
Seeking to be a Master Catechist
Wondering what it means to be a lay apostle?
Interested in Mission?
If you answered yes to any of these questions, then the Lay Mission Project may be right for you.  Designed for all parishioners, regardless of ministry involvement, the Lay Mission Project invites all to explore their faith.
---
Curriculum
The Lay Mission Project Curriculum Overview provides insight into the structure of the project.  The curriculum is delivered in a combination of online courses, small group discussions and workshops.  Each year of the program will begin with a weekend retreat, followed by online courses with small group discussions.  2-3 workshops will be offered throughout the year at the Pastoral Center in Sacramento.

The first two years of the project provide an overview of the theology of the laity and our Catholic faith.  In the third year of the program, participants will decide upon a specialization.  Current specializations include: Catechesis/RCIA, Youth/Young Adult Ministries, Rural Ministry, Witness to Christ in the Professions.
Language
The curriculum for the Lay Mission Project is offered in English.  Candidates for the program will need to be able to participate in online courses and workshops in English.  Several small groups will be bilingual or primarily Spanish-speaking.  Candidates who wish to participate in the bilingual or Spanish small groups will be able to identify that during the Interview process.
Cost of the Program
The Lay Mission Project has a tuition cost of $2,310 per year.  Participants may be sponsored by their parish and the diocese, with each entity sharing the tuition cost.  For a participant sponsored by the parish and diocese, the out of pocket cost will be $770 per year.  Payment plans (monthly or quarterly) will be available for students. 
Certification
At the end of the three-year project, participants who successfully complete the Lay Mission Project will: 
 
Receive a certificate from the Lay Mission Project
Receive an Advanced Lay Ministry Certificate from the Diocese of Sacramento
Be able to apply for Master Catechist Certification (a separate process) from the DIocese of Sacramento
Serve in ministry at their sponsoring parish for 3-years