DEAF PRIEST - FR. MICHAEL DEPCIK, OSFS  
 "WE ALL ARE CALLED TO BE SAINTS"
       Saturday, March 16th, 2019 - 9:00 am to 3:00 pm
       Morning & Afternoon Sessions including Lunch
        plus ASL Reconciliation & ASL Mass
  (scroll down for more information and registration)
 Fr. MD will discuss Salvation History from Creation to Jesus' death on the cross.  

Learn   how to respond to God's invitation to have a meaningful relationship with Him now and   for eternity!
REGISTER HERE for Fr. MD's Sacramento Retreat  If you have any questions or concerns, please contact Jo Kristine Clark at: 530-902-4254/Text or jclark@scd.org
ASL Interpreted Mass
   SUNDAYS* 9:00 am - fellowship after Mass in the church hall. 
 Faith Formation after Mass Feb. 17, 2019

 Enjoy coffee & pastries + learn about the Beatitudes in ASL
St. Elizabeth of Portugal Catholic Church
         1817 12th Street, Sacramento CA 95814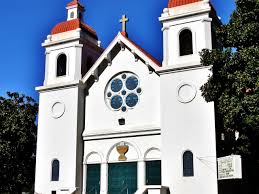 SAN FRANCISCO
ASL Mass with Voice Interpretation
Every Sunday 10:30 am

St. Benedict Parish for the Deaf
1801 Octavia St, San Francisco, CA 94109
  Map   Parish Website
LOS ANGELES
ASL Mass with Voice Interpretation
Every Sunday 8:30 am –with spoken-English translation
Every Sunday 11:00 am – with spoken-Spanish translation
Holy Angeles Catholic Church of the Deaf
4433 S Santa Fe Ave, Vernon, CA 90058
  Map     Parish Website